Construction Cost: The construction cost is the total cost of the work to the client to construct all elements of the project designed or specified by, or on behalf of, or as a result of coordination with the architect. This calculation consists of the construction contract price, cost of changes to the work during construction, construction management fees or other fees for the coordination and procurement of construction services, and all applicable taxes, except value-added taxes, which shall be excluded. Construction cost excludes the compensation of the architect and consultants, land cost, land development charges and other professional fees.
In the event that the client furnishes labour or material below market cost, or recycled materials are used, the construction cost for purposes of establishing the architect's and consultants' fees includes the cost of all materials and labour necessary to complete the work as if all materials had been new and as if all labour had been paid for at market prices at the time of construction, or, in the event that the construction does not proceed, at existing market prices at the anticipated time of construction.
Fee: The amount of compensation paid to the architect for the provision of specific services. Reimbursable expenses or disbursements are not included.
Fixed Fee or Lump Sum or Stipulated Price: One stated sum of money for the performance or provision of specific services.
Percentage Fee: A method of compensation which links the fee for architectural services to a percentage of the construction cost of the project. The percentage will vary depending on the type of building, the construction value, and the type of construction contract.
Per Diem: Allowance or payment for each day.
Service: Work performed for, or the doing of work on behalf of, an employer or client; benefit conferred, or exertion made, on behalf of someone; work comprised in whole or in part of labour, advice or supervision.
Architecture is a rapidly changing, knowledge-based professional service industry. As a result, providing and determining compensation for architectural services is more challenging than ever. This chapter will help architects meet the challenge by discussing how to identify appropriate services for their clients and how to set a value for those services.
It is important to appreciate that, at a fundamental level, fees are paid to an architect for design services that generate or create value for the client. Architects need to educate clients about the value of architectural services and how an architect's ideas and knowledge can result in significant increases to the real estate or commercial value of a building as well as savings in the building's operating and maintenance costs. Refer to Figure 1, which illustrates that the architect's fees are indeed a very small fraction of the total costs for constructing and owning a building.
Several authors have provided ratios for design and construction, operation, and personnel costs. In their 2004 study of office buildings, Hughes, et.al. determined a ratio of 1: 0.4:12. However, Shanus', early work on daylighting presents a ratio of 2% design and construction, 6% maintenance, and 92% personnel is still believed to apply to many building types (p. 40).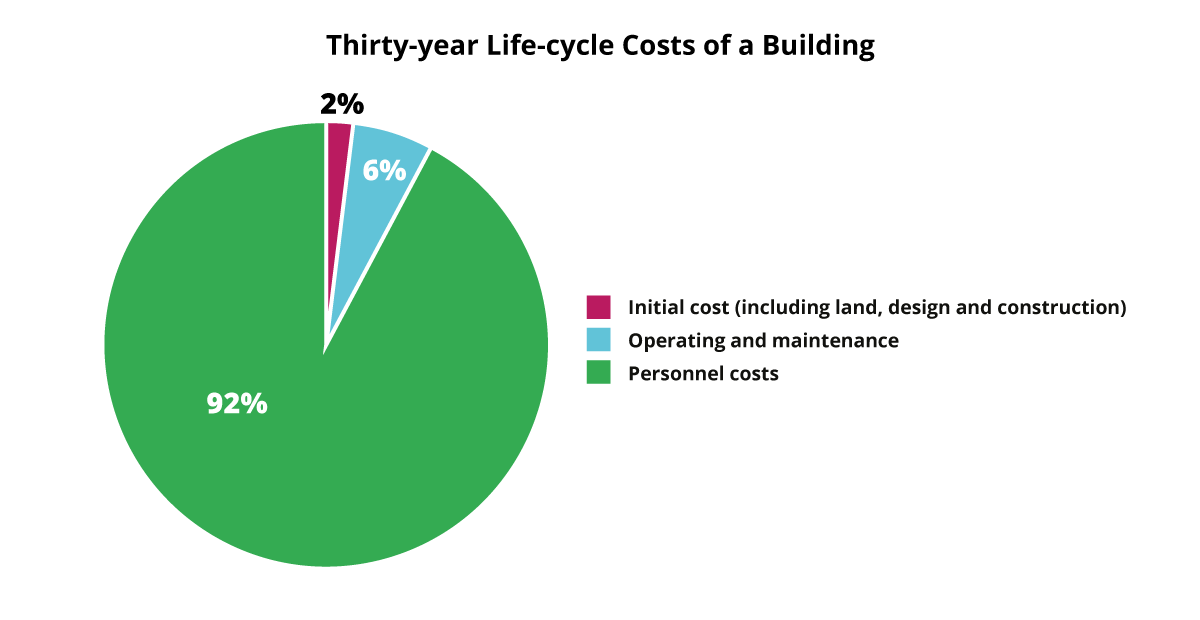 FIGURE 1 Costs of Construction, Maintenance, and Operating a Building over a 30-year life-cycle (Shanus 1994)
The upfront investment in early, effective, and critical decision-making can lead to huge benefits in increased building and human performance as well as reduced operating cost. The professional services of an architect are an investment in the long-term sustainability of a capital asset rather than an expense to be minimized.
By regulation, as self-governing professionals, architects are required to provide an appropriate level of services. Being self-regulated means that only the architect may determine the expected quality of professional services delivered. Fees must be adequate to enable the appropriate levels of quality and scope of services for a given project to be maintained. Before an agreement (or interim agreement) is prepared and before beginning work on a project, the architect must propose an appropriate complement of services to the prospective client. The services should be based on the project requirements, the client's own in-house competencies and the architect's capabilities. The client must also understand that for buildings over a certain size and of a certain use, the building code as well as the architects act in the province or territory require that the project be designed by or under responsible control of an architect. The architect is required to provide an appropriate level of professional services, and consequently fees must be adequate to ensure that this level is achieved. An architect can be held to account for the work they do regardless of the fee. Professional duty requires attention whether an architect is working for a reasonable fee or for no money at all.
Typically, architectural services are focused on the design and delivery of a building. This involves a distinct series of steps that progress from the formulation of ideas that address the client's program and carry on through to the administration of the construction agreement between the builder and the client. These steps constitute the most commonly understood activities:
schematic design;
design development;
construction documents;
bidding and negotiation;
construction phase (contract administration).
These five phases within the design and construction component are a logical progression of concepts-turned-real and a project-based approach to delivering desired outcomes.

FIGURE 2 Linear ("Basic Services") View
Basic services are those services the client and the architect have agreed are necessary for the implementation of the project. These services, organized by project phase, are listed in Appendix A – Checklist: Scope of Architectural Services at the end of this chapter.
The profession is aware that many clients require additional services beyond the basic services. As well, circumstances may arise where a client does not require the services normally associated with a complement of "basic" services. Omitting some services within the agreement may lead to added risk for the architect. Professional responsibilities, the provincially mandated architects act, and jurisdictional regulations establish minimum requirements for an architect's involvement.
Refer to the Canadian Standard Form of Contract for Architectural Services, the RAIC publication A Guide to Determining the Appropriate Fees for Architectural Services, and to the chapters in this Handbook in Part Five – Management of the Design Project and Part Six – Phases of the Design Project for a full outline of architectural services contemplated for each phase.
Additional services (as defined in the Definitions and General Conditions of RAIC Document Six) are:
"… the services that are not included as Services to be provided by the Architect in Schedule A – Services at the time this contract is made but which, with the written agreement of the Client and Architect, are subsequently added to the Services identified in Schedule A – Services."
Fees for additional services are frequently invoiced based on agreed hourly rates, or on the basis of a clearly defined scope and the fee for that scope.
Understanding the full breadth and value of services that could generate greater value for a client is important. This can create opportunities for additional and supplemental services on a project, and can identify new and innovative markets.
Appendix B – Checklist: Supplemental Architectural Services at the end of this chapter identifies many types of services that cover a broad range of expertise and activity, such as providing financial feasibility studies and business cases, and preparing functional programs, submissions to authorities, and life cycle cost studies. Clients are often unaware of, or choose to ignore, the distinction between architectural services and other related professional work. Architects who also ignore this distinction may not be receiving full value for their efforts and may be providing additional services on a pro bono basis for a significant segment of their market.
Practices may wish to prepare a briefing document to outline the types of services for which the firm has expertise and which can be supplied to prospective clients. There are some clients who do not possess a working knowledge of the processes that must be undertaken to deliver a building. Having a document or presentation that takes them through that process can create the appropriate context for continued communication and dialogue.
The success of a project depends on the proper identification of services. At the outset, the architect – together with the client – must determine the professional services required for the project. Once this is done, the architect can prepare a proposal of fees, scope and schedule, and negotiate an agreement with the client. Many knowledgeable clients and their project managers are experienced and understand the need to determine professional services. Architects may need to support less experienced clients in developing an understanding of determining service delivery needs.
Occasionally, the required services cannot be identified at the outset of the project. For example, the site may not be selected, or a functional program may not have been prepared. In these instances, it is prudent to work on a per diem basis until the project is better defined.
To identify required services, prepare a list of tasks to be performed and a timeframe for each. The process also involves identifying and selecting engineers and other consultants necessary for the project. The services outlined in the standard forms of agreement can serve as a checklist for selecting the appropriate services.
In addition to the RAIC document A Guideline to Determining Appropriate Fees for the Services of an Architect, the architect should obtain the latest fee schedule, tariff of fees, and conditions of engagement from the appropriate provincial or territorial association of architects.
See the References section of this chapter for a list of these documents.
Both parties – architect and client – will benefit if the architect receives adequate compensation for the professional services provided. Compensation is usually by one of the following methods:
percentage (of the construction cost);
time basis (per diem or hourly rates);
lump sum (or fixed fee); or
any combination of the above.
Occasionally, in some provinces, architects are paid on a unit basis for projects such as multiple-unit housing or hotels, which have a repetitive element. Unit fee determinations are frequently arbitrary and do not relate to the nature, scope and risks associated with projects or delivering of architectural services.
The standard forms of contract have been crafted to accept different approaches to compensation. Construction cost has been clearly defined in the agreements. Fees should never be confused with reimbursable expenses (sometimes called disbursements), which are also clearly defined in the agreements.
See also Chapter 3.4 – Financial Management.
When calculating the distribution of the fee over the traditional five phases of a project, the following breakdown is typical:

TABLE 1 Typical Breakdown of Fees Over Design Project Life Cycle Phases
In new forms of project design and documentation, such as building information modeling (BIM), more design and documentation is completed during the earlier phases of a project. As a result, it is not uncommon for the phased breakdown of fees on projects using BIM to resemble the following:

TABLE 2 Range of Fee Breakdown for Projects with Intensive Early Phases Including Building Information Modeling (BIM)
Typically, services are rendered and payments are made progressively, with final accounting (100% of total fee) at substantial performance of the construction or after the preparation of the final Certificate for Payment to the contractor.
The three usual methods of compensation use the following methods of fee calculation.
Percentage of the Construction Cost
Architects should base their fees on the recommended schedules prepared by the RAIC in A Guideline to Determining Appropriate Fees for the Services of an Architect, or schedules developed by the provincial or territorial associations of architects. Obtain the most current schedule available, as they are occasionally updated.
Percentage fees are, to a certain extent, contingent on the size and type of project as well as the scope of services required. For example, the schedules generally recommend:
lower percentages for simple buildings or buildings with a higher construction cost;
higher percentages for buildings which are more complex or have a lower construction cost.
The percentage fee is typically built on assumptions of basic services. Percentage fees are modified based on adjustment factors such as project complexity or multi-phased tendering, or extensive multi-agency approval processes. A Guideline to Determining Appropriate Fees for the Services of an Architect provides a list of adjustment factors. By applying the fee to a known cost or approved estimate at the start of each project phase, the fee can be accurately determined, and both the client and the architect can budget accordingly.
The base percentage fees anticipate the following project conditions:
The architect is providing full, basic services.
The project is unique, one-of-a-kind, and designed for a single client who can define the function and scope with clarity and accuracy.
Approvals from authorities having jurisdiction are relatively straightforward.
The project will be tendered once, as a single, coordinated package of construction documents using the design-bid-build design-construction project delivery method.
The method of project delivery is the use of a stipulated sum contract (such as CCDC 2).
The project size is not extreme (neither very large nor very small).
The project approvals are simple and straightforward.
Consultants are limited to those providing the three basic engineering services.
There are no delays, or the progress of the project is not intermittent (thereby incurring repetitive "start-up" costs).
The percentage fee is calculated at each phase as a percentage of the construction cost as defined in the agreement.
In the provincial or territorial fee guidelines, percentage fees usually include the fees of structural, mechanical and electrical engineers – the three common engineering disciplines. In some jurisdictions, "net percentage fees" are used, which exclude the provision of engineering services. This is sometimes the case in multiple-unit housing projects. This method can also be used when the architect is engaged under a separate agreement, with the client engaging the engineers directly and the architect providing coordination services.
In the RAIC Fee Guide there are two charts – one with percentage fees which include basic engineering (structural, mechanical and electrical engineering only), and one with percentage fees without basic engineering services. Other specialist consultants are not included in the percentage fee in either chart.
In all cases, ensure that sufficient fees are allocated for complete coordination. All tariffs or fee schedules usually include coordination services in the net percentage provided.
However, the architect should verify this and compare the suggested percentage with the actual coordination requirements and the team composition. Architects can use the following rule of thumb: the cost to the architect for coordinating engineering consultants is approximately 25% to 35% of the engineering fee. Engineering services can also be negotiated as a percentage of the total construction cost to avoid disagreement over the amount to which the percentage is applied.
To ensure the validity of the amount, use the percentage fee method and the breakdown cost estimate of design services as checks when calculating a fixed fee (lump sum) quotation.
Refer also to the RAIC document, A Guideline to Determining Appropriate Fees for the Services of an Architect.
Time Basis (Per Diem and Hourly Rates)
A per diem or hourly rate is often the most appropriate method for establishing a fee, when, in the early stages of a project, final project scope and the full complement of services have not been determined. Some other situations when this approach would be appropriate include:
pre-approved work being changed;
small projects;
pre-design or other types of feasibility studies;
undefined scope of services;
intermittent work or services.
Per diem or hourly rates are usually determined by the following:
a multiplier of direct personnel expense (payroll cost + payroll burden x a multiplier);
existing market conditions.
Provincial associations have recommended higher per diem rates for special expertise such as acting as an expert witness or providing a unique or highly specialized service.
Lump Sum or Fixed Fee
To use the fixed fee basis, both the client and the architect must thoroughly understand and agree on all tasks required and on the project schedule. The method also requires calculating all costs and making a comparison with the two other methods of compensation. See Chapter 3.11 – Standard Templates for the Management of the Practice. When preparing a fixed fee quotation, include the following:
all direct and indirect labour costs;
all expenses, including materials;
overhead and profit;
risk factors involved with this client and this project;
consultant costs;
costs for coordination of consultants;
marketing costs;
a contingency.
Double-check the fee proposal and do a "reality check" based on market conditions by:
determining fees as though they were based on a percentage of anticipated construction costs;
re-calculating the costs to provide the fees very conservatively, using a worst-case scenario;
checking the staff utilization rates and profit history of similar projects;
ensuring that staff or partners double-check or independently verify the fee calculation.
A "race-to-the-bottom" by reducing fees in a competitive environment does not serve the client, the architect, or the profession well. Fees that are too low to provide professional services will expose all parties to considerable risk. Design fees represent a tiny portion of the life cycle design-construction-operating costs of a facility. The added value of creative, thoughtful and innovative design far outweighs the financial savings by a client's instigation of a fee battle. Unreasonably low fees may also result in an architect being unable to deliver professional services to the client. This could result in a claim of professional misconduct. Ultimately, determining a fee that is both appropriate for the services required and competitive is a business decision.
With clear parameters, including a well-defined scope of services and construction estimate and project quality, the fixed fee can be a satisfactory approach for both the client and the architect. However, when unknown factors or an ill-defined project are involved, the fixed fee method can cause strained relationships and lead to substantial losses for the architect. Verify that all agreements include provision for determining the fee for:
changes in scope;
preparation of change orders;
time delays (caused by the owner or contractor).
Today, the architect often provides services in a different manner, including any combination of the following:
partial services (where the requirement for basic services is more limited);
expanded services (new services not previously offered, such as facility management and 3-D computer models and BIM);
services through different project delivery methods (see Chapter 4.1 – Types of Design-Construction Project Delivery).
Different project delivery methods can mean an increase in both the scope of services and liabilities; therefore, the fee must be adjusted accordingly.
The scope of services varies for each project, each client, and each form of project delivery. As a result, it is now more common for architects and clients to identify services from a comprehensive schedule. This flexible approach is now recognized by the various schedules which must be appended to the Canadian Standard Form of Contract for Architectural Services – RAIC Document Six.
As requirements for professional services continue to change, so will the methods for engaging design professionals.
In seeking competitive submissions from architects, clients frequently use requests for qualifications (RFQs, especially on larger, complex projects such as public-private partnerships) or requests for proposals (RFPs) as a method of selecting architects. When RFQs are used in the first instance, the architect is also required to respond to an RFP that follows. In responding to an RFP, the architect must carefully evaluate all conditions within the terms of reference to ensure that the architect will not be bound to provide services for which the architect is not competent, or which the architect is not willing to provide, or not able to provide within regulations.
Some requests for proposals (RFPs) outline a minimum "scope of services" but permit the proponent to offer additional services. RFPs are sometimes evaluated primarily or totally on the fee for professional services, without careful analysis and understanding of the full scope of services offered by the proponent. However, proposals are most often evaluated utilizing multiple criteria, including project experience, methodology, approach, project understanding, staff qualifications, project consultant team and cost.
The architect must clarify and understand thoroughly the client and project requirements and the level of professional services required before providing a fee proposal.
Requests for proposals (RFPs) can sometimes be ambiguous and provide incomplete descriptions of the project and the scope of services required, or they describe the required services and terms and conditions as if the architect were a contractor or supplier of goods and not a service provider. Such RFPs should be challenged, as client expectations for an unrealistic scope of services, or certain contractual obligations and their subsequent consequences, can be very detrimental to the project and to the practice. In some instances, the terms and conditions required from the RFP may not be insurable under professional liability insurance policies. This may result in a possible finding of professional misconduct for the architect who enters into an agreement to provide non-insurable services. Architects should encourage owners to change and improve such RFPs or ask the architectural licensing authorities or the RAIC to intervene. If improvements are not made, architects should consider not responding to the RFP.
See also Appendix B – Guidelines and Checklists: Issuing Requests for Proposals (RFPs) at the end of Chapter 2.2 – The Client.
Regardless of the type of project, the architect should prepare and execute a written agreement with the client after identifying the full scope of services and negotiating a fee. Written agreements are a requirement in several jurisdictions.
It may be advisable to use an interim agreement, a memorandum of understanding or another form of "binder" in order to start work while a full agreement is being prepared. In some jurisdictions it is professional misconduct to providing architectural services without an express written contract or oral contract.
Architects should not use customized stand-alone agreements developed for the specific use of their own architectural practice or, without legal counsel and ample due diligence, enter into an agreement based on a client-written contract form. They stand to gain from promoting and adopting the Canadian standard forms of agreement between the client and the architect. These are produced by the architectural profession and accepted nationally. Furthermore, there is broad consensus on the meaning of the "General Conditions," and a certain amount of case law has been built up in their interpretation. These agreements are also consistent with CCDC contracts.
The guides contained within each of the standard contracts explain the use of the contracts and their terms as well as how to complete the forms.
American Institute of Architects (AIA). The Architect's Handbook of Professional Practice, 15th edition. Hoboken N.J.: John Wiley & Sons, 2013.
Hughes, W, Ancell, D, Gruneberg, S and Hirst, L. "Exposing the myth of the 1:5:200 ratio relating initial cost, maintenance, and staffing costs of office buildings," In: Khosrowshahi, F (Ed.), 20th Annual ARCOM Conference, 1-3 September 2004, Heriot Watt University. Association of Researchers in Construction Management, Vol. 1, 373-81.
Ontario Association of Architects "Choosing an Architect." Ontario Association of Architects. https://oaa.on.ca/public%20resources/hire%20an%20architect, accessed April 21, 2020.
Ontario Association of Architects. A Client's Guide to Engaging an Architect in Ontario. 2008.
Royal Architectural Institute of Canada. A Guide to Determining Appropriate Fees for the Services of an Architect. Ottawa: Royal Architectural Institute of Canada, 2019.
Royal Architectural Institute of Canada. "Canadian Standard Form of Contract for Architectural Services." RAIC – Contract Documents, 2020. https://raic.org/raic/contract-documents, accessed April 23, 2020.
Shanus, Michael D. "Going Beyond the Perimeter with Daylight", Design and Application, (March 1984).
Stone, David. Mastering the Business of Architecture. (Ontario title only.) Toronto, ON: Ontario Association of Architects, 1999.
Stone, David. Mastering the Business of Design. Charlotte, NC: Impact Initiatives Inc., 1999.
"Tariff of Fees for Architectural Services: Revision #3 February 2009." AIBC -Tariff of Fees for Architectural Services. https://aibc.ca/wp-content/uploads/files/2019/08/Tariff-of-Fees_Feb-2009.pdf, accessed April 23, 2020.
"Architectural and Engineering Suggested Fee and Scope of Services Reference – Consulting Architects of Alberta and Consulting Engineers of Alberta." Consulting Architects of Alberta, updated February 2017. https://consultingarchitects.ca/business-advocacy/issues/scope-and-fees/, accessed April 23, 2020.
"Bylaws of the Saskatchewan Association of Architects." Saskatchewan Association of Architects – Architects Act & SAA Bylaws, 2020. https://saskarchitects.com/regulatory-information/architects-act-saa-bylaws/, accessed April 23, 2020.
"What Architects Do: Determining the Cost of Architectural Services." Manitoba Association of Architects. https://www.mbarchitects.org/cost_of_architectural_services.php, accessed April 23, 2020.
Association of Architects in Private Practice of Quebec/Association des architectes en pratique privée du Québec.
Contrat standard édition 2019 | 2020 – version française
Contrat standard édition 2019 | 2020 – version anglaise
Guide explicatif du contrat standard édition 2019 | 2020 (en français)
Contrat simplifié édition 2019 | 2020 – version française
Contrat simplifié édition 2019 | 2020 – version anglaise
Le contrat de Consortium 2018 (en collaboration avec le Fonds des architectes)
Le Guide d'accompagnement du contrat de consortium 2018 (en collaboration avec le Fonds des architectes)
Architects' Association of New Brunswick. "Schedule of Recommended Fees." 2020. https://www.aanb.org/uploads/bylaw/43/file/translations/85/6._Appendix_A_-_Schedule_of_Recommended_Fees.pdf, accessed September 11, 2020.
Architects Association of Prince Edward Island. "Conditions of Engagement and Suggested Schedule Minimum Professional Charges." https://aapei.com/architectural-services/, accessed April 27, 2020.
"Schedule D – A Guide for Fees for Architectural Services." Nova Scotia Association of Architects, January 22, 2018. https://nsaa.ns.ca/wp-content/uploads/2020/04/Guide-for-Fees-for-Architectural-Services-January-2020.pdf, accessed April 23, 2020.
"Guidelines and Recommended Minimum Fees for Architectural and Engineering Projects." The Newfoundland and Labrador Association of Architects and The Association of Consulting Engineering Companies Newfoundland & Labrador, June 2017. http://www.acecnl.ca/files/WebDownloads/Fee_Guideline/NLAA%20ACECNL%20Fee%20Guide%202017_June.pdf, accessed April 23, 2020.
Appendix