Communication: The science and practice of transmitting information; the act of imparting news; information given; social dealings.
Construction Communication: Within the organizational context, to convey an instruction to influence the actions/behaviour of others, or that may involve an exchange of or request for information during a construction project period.
Communications Methods: A systematic procedure, technique or process used to transfer information among project stakeholders.
Manage Communications: The process of ensuring the timely and appropriate collection, creation, distribution, storage, retrieval, management, monitoring, and ultimate disposition of project information.
Monitor Communications: The process of ensuring the information needs of the project and its stakeholders are met (Project Management Institute).
Negotiation: Formal discussion between people who have different aims or intentions in business, design or construction, during which they try to reach an agreement.
Plan Communications: The process of developing an appropriate approach and plan for project communication activities based on the information needs of each stakeholder or group, the available architectural practice resources, and the needs of the project (Project Management Institute).
Minutes: The record or notes of a meeting or transaction; a brief summary of the proceedings of a meeting; an official memorandum authorizing or recommending a course of action.
Stakeholders: Any person or group of people who may impact or be impacted by project outcomes.
"Communication is at the center of architecture practice. An exceptionally gifted designer may not achieve success if he or she is unable to effectively communicate ideas to others. The construction process requires collaboration between many people, and architects must be able to communicate in a clear, concise, and unambiguous manner for a project to be successful."
David Greusel, AIA
The value of the spoken word should never be underestimated; in fact, impassioned speeches and great architectural presentations have inspired people to take action that has created monuments and changed the course of history. Nevertheless, the practising architect should rigorously follow two essential rules: say what you mean and put it in writing.
The practice of architecture always requires effective communications. Some of the many situations in which communication plays a key role include:
explaining the roles and responsibilities of the client, the architect and the consultants in the design project;
identifying the factors and requirements that will result in project success;
describing skills, experience and unique value proposition to a potential client;
developing and validating a client's functional program or statement of requirements;
presenting a design concept to a client for approval;
explaining a design concept to the technologist who will draw it;
advocating for the approval for a zoning change to a public body or authority;
resolving a problem on a construction site.
Broadly speaking, there are two contexts in which communication occurs in architectural practice:
the project's deliverables, including:

the design;
the technical systems and details of the building;
coordination of the work of the architectural and engineering design team;
the execution of the design on site by the construction contractor.

the project's management, including:

the scope of services;
planning and controlling project costs, schedule and work;
quality, risk and stakeholder management.
This chapter will discuss the principles of effective communication and describe various communications processes and techniques to help the architect communicate project information and manage project stakeholders' needs.
The communications process requires:
a sender;
a receiver;
a medium;
a message;
feedback.
There are many factors that impact the clarity, transmission and understanding of a message. The design-construction industry has an intricate and multi-faceted supply chain involving many players with a wide diversity of interests, education, experience, expertise and languages. A sender's message may be misunderstood by the recipient once the message is received and decoded.
Over 60 years ago, Wilbur Schramm developed the fundamental model of communication used throughout the world today.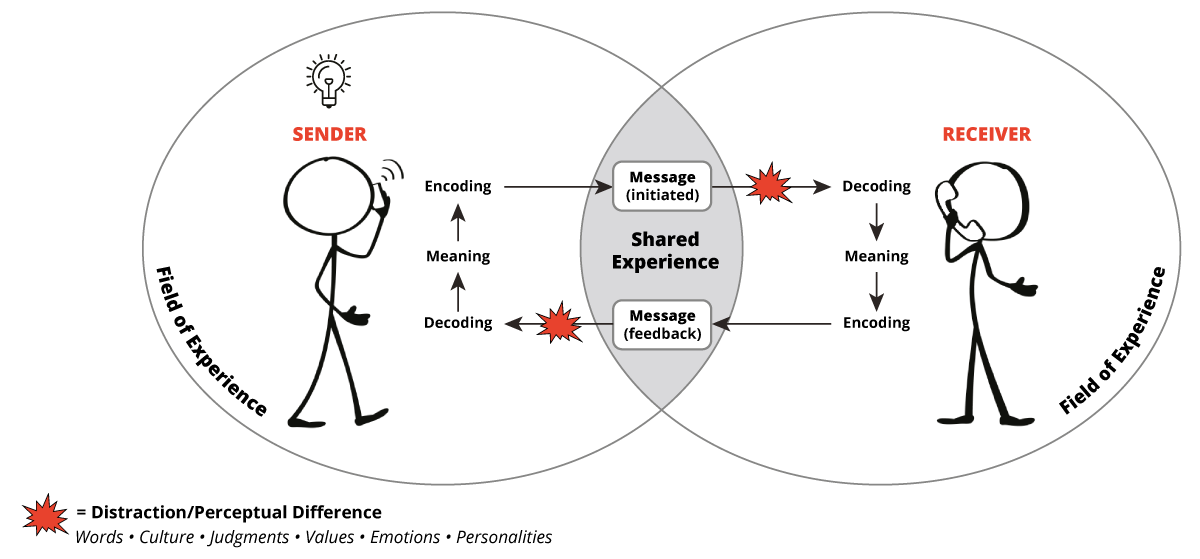 FIGURE 1 Schramm's model of communication (Verma 1996, p 17.)Adapted with permission of the author Vijay K. Verma.
Schramm's model of communication disassembles the communication process between sender and receiver, allowing the exploration of each facet of communication. There are many opportunities for effective communication to break down, including, to name just a few:
challenges for the sender to encode an idea into language, be it a spoken language or the language of drawing;
inappropriate selection of the medium of communication, such as drawing an idea when it would be better written, or talking directly to a client, either face-to-face or on the phone, rather than sending an email;
perception filters of the receiver that block or distort the sender's message;
the language in which a message is transmitted not being understood by the receiver, e.g., cannot read drawings or does not share the same spoken language as the sender;
the feedback from the receiver to the sender suffering the same challenges as the sender to the receiver.
As Schramm indicates, the sender and the receiver must share overlapping fields of experience for effective communication to occur. Therefore, for communication to be effective, the architect must draw upon interpersonal skills to build a field of experience that reaches and overlaps that of the project stakeholder with whom they want to and must communicate.
To communicate effectively, architects must have a good understanding of the characteristics of the communication process. According to Ralph Kliem, author of Effective Communications for Project Management, effective communication requires considerable flexibility and adaptability on behalf of all parties, and is:
an integrated and interdependent process;
a complex, dynamic process;
a continuous process;
a subjective process.
Why is effective communication important on design-construction projects?
"Construction projects are complex and risky, requiring the active participation of all contributors. Co-operation and co-ordination of activities through interpersonal and group communication are essential in ensuring the project is completed successfully."
M.E.L. Hoezen, The Problem of Communication in Construction
In the publication Management of Building Projects, the British Columbia Building Projects Committee points out that effective communications and good documentation require:
good interpersonal skills to achieve co-operation and successful teamwork;
political sensitivity, which may be needed to enable timely agreements;
presentation capabilities to convey key messages and to develop solutions (this often extends to business, municipal or community audiences);
writing and graphic skills for timely distribution of information, to specify and coordinate the work and its progress.
In "Why Is Communication Important in Construction Projects?" Neal Flesner notes that effective communications will:
help build and maintain relationships on construction projects;
foster idea sharing and innovation;
help build confidence and strengthen teams;
improve management of the team;
create feedback loops;
deliver results.
Each of these requirements for effective communication point back to Schramm's communication model and the need to consider all aspects of the communication process.
"Project communications management includes the processes necessary to ensure that the information needs of the project and its stakeholders are met through development of activities designed to achieve effective information exchange."
A Guide to the Project Management Body of Knowledge, Sixth Edition
The Project Management Institute's A Guide to the Project Management Body of Knowledge captures all aspects of project communications management in three processes:
plan communications
manage communications
monitor communications
Like all other processes in project management, communications must be planned. Who is to receive what information, when, in what format, using which medium? Leaving the processes of communications to chance or tradition can lead to serious errors in judgement, misunderstanding, mistrust and broken relationships.
A communications plan should capture the communication needs for all project stakeholders, including the client organization, design team, construction team and external stakeholders, such as authorities having jurisdiction.
At a high level, the communications planning in the publication Management of Building Projects includes:
defining the project;
selecting and detailing the project delivery methods;
assigning project stakeholders' role and responsibilities;
systematically controlling the project scope, quality, cost and schedule.
These four project activities can be broken down into greater levels of detail in the project work breakdown structure (WBS). The format of the communications plan can take several forms; however, a simple approach is to start with the project's work breakdown structure and ask of each deliverable, subdeliverable or task: "From whom do I need information about this work?" and "Who needs to receive information about this work?" A well-developed WBS will provide a firm foundation for communications planning, promote transparency, and avoid important issues slipping through the cracks.
Using the work breakdown structure as a foundational tool in communications planning involves building a relationship between the work of the project and the project stakeholders. Each project stakeholder has information needs. Those needs may be captured at the high level (the deliverables), an intermediate level (the subdeliverables), or the detailed level (the tasks). Building the communications plan then becomes an exercise in asking the following questions for each stakeholder or stakeholder group:
What information does the stakeholder(s) need from the architect about this deliverable (high-level information), this subdeliverable (medium-level information), or the tasks (detailed information)?
What information does the architect need from the stakeholder(s) about this deliverable (high-level information), this subdeliverable (medium-level information), or the tasks (detailed information)?
In what medium and format and with what frequency does the information need to be communicated?
A simple communications plan built around the work breakdown structure will help the entire design team manage information throughout the project life cycle. This approach will also support changes to the communications plan as additional stakeholders are identified and their needs analyzed.
Refer to the Canadian Practice Manual for BIM, Volume 3 – Project Context, Chapter 7 – Scope, Priorities, and Commitment, pp. 19-24, for a discussion of project communications in a BIM environment.
"The [manage communications] process ensures timely and appropriate collection, creation, distribution, storage, retrieval, management, monitoring, and the ultimate disposition of project information."
Project Management Institute, A Guide to the Project Management Body of Knowledge, Sixth Edition
Managing project communications involves the movement of information in accordance with the communications plan. As indicated above, there are two contexts in which project communications exist: information about project deliverables and information about the management of the project. Both of these contexts involve internal and external communication.
Communication tools for the architect to manage the project include:
Performance reports:

the variances between the planned activities of design service delivery, including scope, cost and schedule, and actual performance of the design team;
projections of project performance work, cost and schedule;
management interventions needed to bring the project performance back in line with the plan or to propose changes to the project plan.

Scheduling progress:

milestone plan indicating outcomes achieved by critical dates;
detailed schedule indicating work undertaken and completed against work planned.

Cost reports:

budgeted amount and actual expenditures.
In generating communications, the paramount concern should be not what one wants to say but rather what one wants their audience to understand.
The architect should monitor all project-related communications and ensure that information is flowing as planned throughout the project. In monitoring communications, major problems may be avoided if the architect can respond and take appropriate action immediately. Often people will withhold or interrupt communication of information that they fear may pose a threat to their success and/or project success. The architect should ensure teams are communicating and co-operating in a timely manner to avoid unpleasant surprises to all parties.
A time-honoured approach to monitoring communication effectiveness is through an auditing process facilitated by MBWA or "management by walking around." This method is undertaken by engaging with team members and stakeholders on an ongoing but informal basis and asking whether communications are being received and responded to in a timely fashion and in an appropriate format.
Architects traditionally communicated through drawings. As technology develops and evolves, it is now critical for architects to adopt and integrate many different forms of communication and information technologies, including the internet, video, audio and presentation software. Traditional ways of communicating are:
writing;
verbal (speaking and listening);
graphic.
Written communication distributed either on paper or using electronic media can easily be monitored and controlled. Excellent writing skills are essential in most practices, not only for services where writing is paramount, such as studies and reports, but also for correspondence, minutes, marketing and presentations.
Written Communication: Proposals, Reports and Correspondence
Written communication can be either formal or informal. Informal written communications include e-mails, memos, tweets and rapid electronic responses with limited content. Informal communications are intended to be short and to the point, and to communicate a single or a few ideas. Formal written communications include agreements, letters seeking or providing specific or comprehensive information, presentations, proposals and specifications, as well as a host of reports, project planning documents, site visits and change documentation.
Some tips for effective written communication:
Proposals: An organized and well-written proposal will give the client an impression of an architect's ability to organize and execute a project. In responding to a client's request for proposals (RFP), be exact with language and the order of the proposal. The format of the proposal should follow the structure of the client's RFP. A limit on the length of proposals is often imposed. Depending on the client, there may be no leniency shown for excessively long proposals; the client may simply count the number of pages allowed and tear excess pages from the proposal without further review.
Reports:

Written records: Maintaining accurate written records of all professional and business dealings, for both the management of the practice and the management of all projects, is important. Clear, written and complete records can be invaluable in resolving disputes, and are the best defense against and during legal action; every record will receive detailed scrutiny by lawyers of both parties in the event of a lawsuit.
Memos and e-mails: All documents, both incoming and outgoing, as well as internal memos and e-mails, should be dated and carry the name and number of the project. The date on correspondence creates an accurate chronology of events over the course of a project, such as the order in which design sketches were created or the timeliness of supplemental instructions.
Correspondence: The discipline of writing correspondence in clear, comprehensive and concise language will support accurate record-keeping as well as develop the ability to write with the audience in mind.
Site/field reports: Field reports are formal documents that provide a record of observation, variances between the construction documentation and actual build, and actions to be taken. They should be accurate and document all building systems, even if only to say, "Observed – no comment at this time."
Written documentation organized in a structured system is pivotal to the reconstruction of events that resulted in decision-making. The chronology of events may have to be recreated years after everyone involved on a project has left the practice (and perhaps the city or province or country) or may be deceased. Affordable electronic and web-based project information management systems, which facilitate easy categorization, archiving and retrieval of information, are now available to even the smallest firms.
For forms dealing with external communications, see Chapter 6.8 – Sample Templates for the Management of the Project. Templates include:
memoranda;
minutes of meetings;
transmittals;
project team directory;
field/site reports.
Listening
In verbal communications "active listening" is necessary for understanding a problem and the services required.
Active listening includes:
observing, by watching and paying attention to a speaker's actions, thoughts, feelings and intentions;
amplifying, by asking for more information;
reflecting, by restating or paraphrasing the speaker's comments;
clarifying, by seeking further elaboration and understanding of a comment;
interpreting, by offering a conclusion to a remark;
summarizing, by recapitulating the main issues discussed.
Developing skills in "active listening" not only improves an architect's services but can also increase a client's respect for the architect.
Disputes within the construction industry (in fact, most disputes in general) are usually the result of misunderstanding.
Developing and maintaining an appropriate attitude to listening and understanding can help to identify critically important project requirements and avoid conflicts.
Speaking
Most architects are aware that a message is conveyed by more than the words being spoken. Verbal communication also includes non-verbal communication and paralanguage: the tone of voice, volume and pitch, and gestures and body language. Conveying one's message requires a constant awareness of all these different communication methods, and a willingness to hone and practise presentation and communication skills.
Some tips for effective speaking and presentations include the following:
assess the setting and confirm:

where you will stand;
where visual materials will be situated;
what options are available for lighting;
what your relationship will be with the audience;

use simple, non-technical language;
use consistent language and terminology;
speak loudly and enunciate clearly;
rehearse using a video;
exaggerate gestures;
maintain good posture;
establish eye contact;
eliminate "blather" (expressions such as "actually," "umm," "like");
pause frequently.
It is a good practice to assume that some members of any audience possess the invisible challenge of compromised hearing. Therefore, clarity of speech, directing one's voice toward the audience, accuracy of words, and maintaining eye contact with members of the audience not only instills confidence but also makes it easy for everyone to hear the presentation without effort.
Referring to Schramm's model of communication (Figure 1 above), sender and receiver must encode the message and decode the message, respectively. If the receiver does not know the spoken or written language of the sender, it is immediately apparent that communication between the two will be unsuccessful. However, it may not be readily apparent that the receiver of a graphic message cannot "read" drawings. Like spoken and written language, drawings have conventions and symbology. Unlike written and spoken language, drawings have multiple dimensions, scale, and perspective. Add to this the sometimes confusing abstraction of multi-dimensional space into flat planes, sections and elevations, and there is ample opportunity for the uninitiated stakeholder to misunderstand the graphic message of drawings.
Some tips for effective graphic communication:
identify the communication abilities of stakeholders, in both content and modality, to receive and understand graphic information;
identify the message that needs to be communicated and limit the graphic information needed to support that message;
do not assume that everyone can read drawings, particularly with regard to interpreting scale, volumetric, illumination, or drawing symbols;
provide drawings of the same spaces and features at different scales showing progressively more details;
consider providing physical and virtual reality models.
"Good communications do not automatically occur on construction projects, but must be nurtured from project inception to close-out."
Associated General Contractors of America, Guidelines for a Successful Construction Project
How architects communicate with stakeholders reflects their personality, beliefs, values and preferences. Architects should avoid issuing one-way directives, and instead embrace the concept that effective communication between parties only occurs if there is a clear and cogent understanding of the communication by the receiving parties. Architects must always:
issue clear, concise, actionable instructions in the first instance;
by a follow-up telephone call or e-mail, ask the communication's receiver(s) if they need clarification or additional information;
avoid using architectural terminology and jargon that receivers may not understand.
This section will describe techniques to improve communications in different project phases so as to enable the architect to make timely decisions.
The architect's communication role and responsibilities defined in standard contracts, such as RAIC Document Six, include two types of services, "basic services" and "additional services." These are covered in Chapter 3.9 – Architectural Design Services and Fees, including the early phases of the design. The architect shall negotiate with the client regarding what services are basic services and what services are additional (to the basic services). For example, "life cycle costing" is generally an additional service, not a basic service.
For more complex projects, such as those procured under design-build or construction management, an expert construction advisor should be retained by the client to participate in the design process to advise on available construction resources, materials, scheduling, climatic considerations, etc. Refer to construction management contracts CCDC 5A Construction Management Contract – For Services and CCDC 5B Construction Management Contract – For Services and Construction for conditions for pre-construction management. See Chapter 5.1 – Management of the Design Project.
Chapter 6.1 discusses the communications between the architect and the owner in the pre-design phase. The standard Owner-Architect Agreement (RAIC Document Six) states in its client functional program requirements that a "Client shall communicate and provide the architect with project requirements."
If the client has difficulty in providing project requirements, the architect should prepare the functional program as an additional service, utilizing the services of other design professionals (such as engineers) at this stage to develop information for use in subsequent design phases.
When a consultant is directly engaged by the client, the architect should require that the consultant's work be communicated and coordinated by the architect themselves. This is essential, as the architect is the principal designer and is responsible for the overall design. Some authorities having jurisdiction require that the architect certify that they are the coordinating professional of record and will coordinate the work of the consultants, irrespective of contractual relationships or how the consulting team is assembled. The architect should involve the client and/or other stakeholders in design decisions during and after preliminary design. This is done through direct communication with the client and/or other stakeholders.
See also Chapters 6.2 – Schematic Design and 6.3 – Design Development.
It is important to make sure that contracts, drawings, specifications and records are clear and complete – all of these are central to the project's written communications. This includes design and time cost trade-offs.
See Chapter 6.4 – Construction Documents – Drawings and Specifications.
If the architect is required to participate in the construction procurement phase (traditionally referred to as the "tendering" stage), it is important for the architect to set up, in collaboration with the client, contractor selection and communications criteria. The objective of this undertaking is to ensure that:
the criteria meet all of the project objectives;
the scope of services, responsibilities and the risks to be assigned, and the balancing of quality, cost and schedule are communicated and stated in procurement documents.
See also Chapter 6.5 – Construction Procurement.
Notice to Proceed
This correspondence (the Notice to Proceed with a particular contractor) from the owner to the successful contractor is the first formal communication under the construction contract. Because negotiation of the provisions of the contract can sometimes take time, this notice is a method of starting work before the actual contract is signed.
Communication plays a key role in resolving problems related to scheduling, shop drawing reviews, change orders and issues on a construction site. Communication during construction requires maintaining a proper balance between the need for a speedy response and careful consideration of the instruction or change.
Today, there are many technologically sophisticated hardware and software solutions to assist not only the design team but the entire construction and management team with communication during construction. Many of these solutions provide real-time communication between parties, thus reducing reaction times to on-site issues, which mitigates delays to the schedule. With these tools, architects on construction sites can easily and quickly communicate with design, technical and administrative staff in their offices, as well as engineers, specialists and construction personnel connected with the project.
The following tips help the architect to maintain good communications with contractors. The architect should:
review the contract and construction documents before answering any questions;
outline clearly the information or supplemental instructions needed by the contractor;
confirm all verbal communications promptly in writing;
make note of every telephone call with the contractor for the project files.
Construction Project Kick-off Meeting
It is essential to convene a construction project kick-off meeting. This meeting, chaired by the constructor, be it general contractor, design-builder, or construction manager, establishes expectations and outlines the constructor's plan for the project. The owner may or may not have experience in construction projects. As the key stakeholder, the owner should be present in order to understand their role in the construction project. The agenda attached to this work will be unique for each project but will cover, at a minimum contact, levels of authority, key stakeholders, communication channels, RFIs and submittal review processes, access to site, working hours, noise, invoicing, etc. The results of this meeting should be documented for future reference.
Shop Drawing Review
Shop drawings are derived from the design working drawings and are reviewed by design professionals for conformance to design requirements.
In communicating shop drawing review processes and procedures, the architect should establish a systematic practice for transmittals and records for all submissions, responses, clarifications, and change instructions that are sent formally to and from reviewers and vendors through the architect.
Change Management
Change orders and their predecessors, contemplated change orders, become part of the contract and must be clearly communicated. The architect should provide timely and accurate information for the cause or reason for the change and then inform the client and all consultants. The client must approve all change orders before they are enacted on the construction site. Any changes in the cost, time or quality of work are cause for concern to the client, and potentially pose a risk to the design team. Therefore, all aspects of this process should be recorded and carefully administered.
See Chapter 6.8 – Processing Change Orders.
On-site Communication and Meetings
Site coordination meetings are usually chaired and recorded by the project manager, construction manager or construction superintendent. The architect must understand the underlying meaning behind certain on-site communications, and act promptly on all matters involving the architect or the design subconsultants.
See Chapter 6.6 – Contract Administration – Office and Field Functions.
The following actions help to maintain effective communications in project closeout:
involve all project participants and stakeholders;
use a checklist to make sure all key items have been completed;
keep an up-to-date, progressive deficiency list that is continually shared with the contractor;
convene a post-mortem session;
prepare written records, reports, and meeting reports at project closeout.
See also Chapter 6.7 – Take-over Procedures, Commissioning, and Post-occupancy Evaluations.
The design-construction supply chain is complex with many players of different backgrounds, knowledge, and interests. The design-construction industry is known for its strong-willed and determined people. Conflicts arise frequently, and managing conflict situations requires both analytical and interpersonal skills. It is important for the architect to appreciate that the sources of conflict in project endeavours are predictable, based on the project phase.
Conflicts in projects have predictable sources. Conflicts between differing project priorities are high at the beginning of the project and decline over the project's life cycle. Concern for schedule raises through project execution and peeks towards the closing of the project. Interpersonal conflicts and manpower issues tend to rise in concern over the project life cycle. The architect is well advised to closely monitor sources of conflict, invest effort in directing communications to areas prone to generate conflict, and establish triggers that would help to identify conflict as it appears on the project horizon. Be proactive.
There are numerous tools available to support the architect in managing situations of conflict. However, many researchers who study the human factors of project management have developed models that use the same basic principle: the application of one of Blake and Mouton's five approaches to manage conflict, appropriate for a given situation and desired outcome. The task for the architect is to identify what is important in the situation and exercise their interpersonal skills to bring about resolution. The strategies and chart below are adapted from the work of multiple researchers in human dynamics with a focus on conflict in the project environment.
Five Strategies for Managing Conflict
Blake and Mouton's five strategies for resolving conflict have been adapted by other researchers over time; however, the basic approach remains the foundation for understanding conflict resolution.
Accommodation/ Smoothing
Reinforce the positive and maintain harmony
Downplay the conflict
Temporary
Avoidance/ Withdrawing
Refusing to deal with the conflict
Used when cooling-off period is needed to step back from the conflict
Temporary solution
Forcing
Applying power to resolve issues where common ground does not exist
Expedient resolution at the cost of the relationship
Compromise
Bargaining to obtain a level of satisfaction for both parties
Compromise may result in reduced project quality or scope
Collaboration/ Confronting
Confronting the problem and working towards an optimal solution for both parties
Achieved solution with stronger relationship between parties
Requires time to analyze problem, develop alternatives, and select the best solution
Each strategy is appropriate in a given situation; however, not all strategies provide a lasting outcome. The appropriate application of these five factors is based on a comparison of the desired outcome for one's self to the desired outcome for others. K.W. Thomas expands the five strategies by placing them in a matrix that relates conflict strategies to the value of one's own goals compared to relationships with others.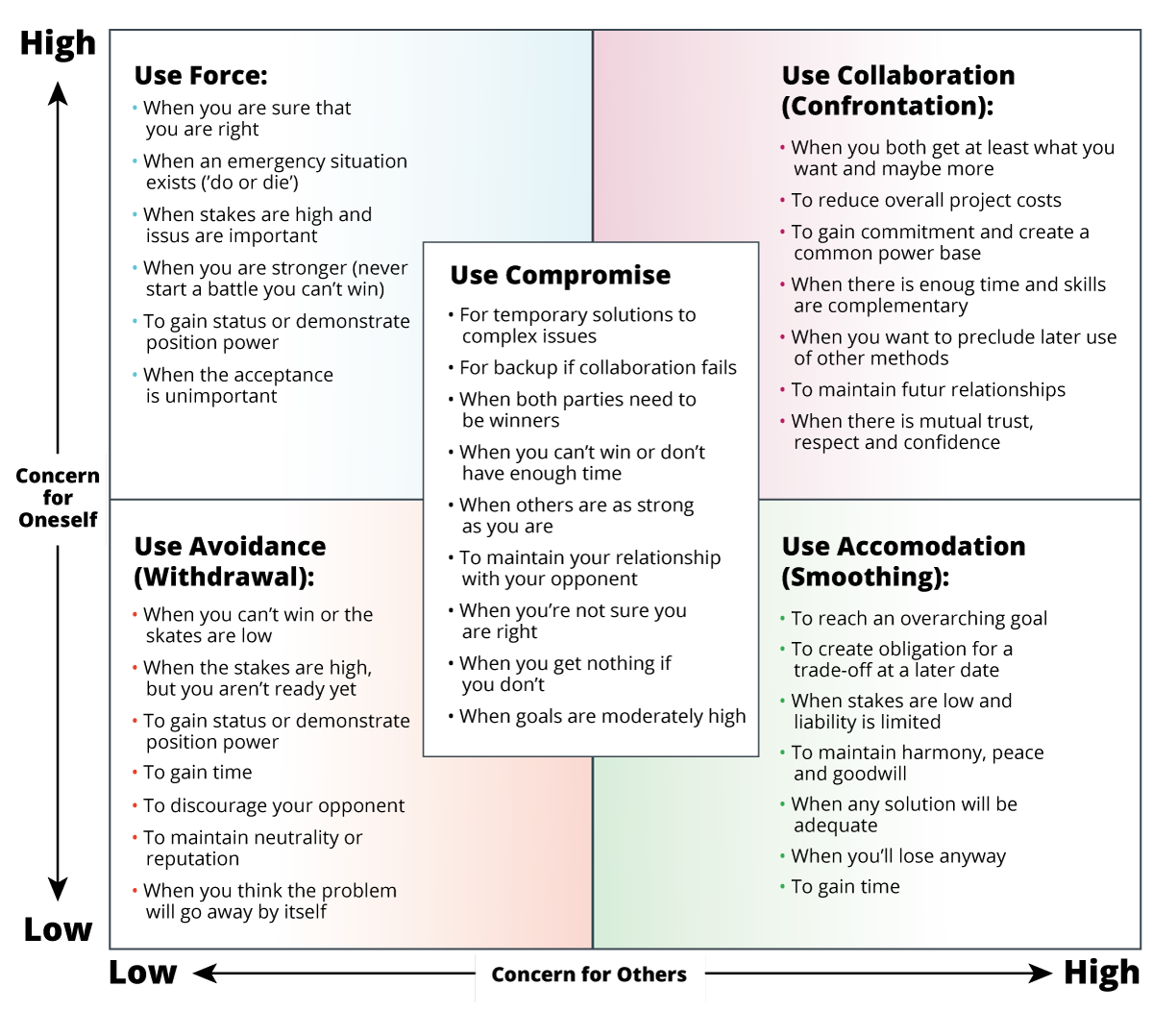 FIGURE 2 Application of conflict resolution strategies. (Verma 1996, p. 122.) Reprinted with permission of the author Vijay K. Verma.
For an architect, negotiating is an essential part of communications. Architects, especially principals, need to understand basic negotiating techniques that are useful in reaching satisfactory agreements with:
clients;
contractors;
consultants;
staff;
suppliers and others.
There are many "how-to" books and media materials on negotiation techniques, and it is recommended that all principals learn as much as possible about negotiations. The advice of most of these books is to strive for a "win-win" resolution — a reasonable and fair exchange where both parties are better off than they would be without an agreement.
In every negotiation, there are three critical factors:
time;
power;
information.
It is important to remember that price is not always the most important issue and that different people want different things. Negotiations should never be narrowed down to just one issue.
Many claim that physical factors, such as seating arrangements and body language, are significant communication elements when negotiating. It is important to learn and understand negotiating tactics. Refer to the publication Mastering the Business of Architecture (published by the Ontario Association of Architects in Ontario), and titled Mastering the Business of Design (outside of Ontario) for an explanation of these tactics.
Successful negotiations usually conclude with the following characteristics:
both sides feel a sense of accomplishment;
both sides feel that the other side cared and was fair;
each side would deal with the other side again;
each side feels that the other side will keep their respective bargain.
In the context of this chapter, external communications means communication with those people outside the architectural practice. In all communications involving the architectural practice, the architect must:
be professional;
be courteous and tactful;
learn to be an active listener;
respect the confidentiality of clients and the practice.
According to the BC Building Projects Committee, in the publication Management of Building Projects, the extent of external communication is a matter of judgement. It is important for the architect to learn and understand the following:
how much to communicate and with whom;
whether communication should be written or verbal;
to what extent verbal communications from meetings or other conversations should be confirmed in writing, and whether the written record should be acknowledged or agreed – which is typically necessary for drawing transmittals or meeting minutes.
Clients
The architect's role is to enable the client to make informed decisions; therefore, developing a one-to-one relationship with the individual client or client group is important. The keys to building and maintaining a good relationship with any client include:
promote "active listening" (see above);
use simple, straightforward language in all communications;
be honest, which includes:

endeavouring to facilitate the resolution of problems;
being willing to admit to not knowing an answer, but promising to find the answer;

propose solutions rather than problems;
empathize with the client (for example, do not expect a client to understand graphic images easily – architects are trained to read drawings but clients may not be);
thoroughly document all decisions relating to a project and confirm their accuracy;
recognize the client's right and responsibility to make major decisions regarding a project.
The greater the rapport between architect and client, the more easily the relationship will weather any contentious issues which may arise during design and construction.
See also Chapter 2.2 – The Client.
Consultants
Consultants are the architect's teammates on a construction project, whether they are engaged by the architect or retained directly by the client. The goal of the design team is to provide the client with a building project that satisfies the client's needs.
In communicating with consultants, the architect must:
ensure that consultants are kept current and fully informed about a project's development;
ensure consultants have incorporated changes, additions or deletions to project documents;
document all decisions relating to a project thoroughly and confirm their accuracy;
understand all recommendations made by consultants.
See also Chapter 2.3 – Consultants.
Contractors
The primary means of communication with the contractor is through the construction documents. When preparing the construction documents, the architect must always remember that they are a communication tool and should view them from the standpoint of the contractor.
Ensure that the construction documents respond to the following questions:
Is information easy to find?
Is information clearly presented?
Is the material cross-referenced to ensure completeness and clarity of design intent?
Are unusual conditions and construction details identified and described?
Clearly written bid documents should result in:
more accurate bids;
fewer requirements for addenda during the bidding process;
a smaller spread between high and low bids;
better understanding of the design intent by the builder and trades;
fewer delays on the construction site;
a lower final cost to the building owner;
a better building.
Regardless of how carefully construction documents are prepared, issues requiring additional communication by the architect will arise.
Communication during construction requires maintaining a proper balance between the need for a speedy response and careful consideration of the instruction or change. The following tips help to maintain good communications with a contractor:
review the contract and construction documents before answering any questions;
outline clearly the information or supplemental instructions needed by the contractor;
confirm all verbal communications promptly in writing, using one of the following:

minutes of meetings;
supplemental instructions;
change orders;
change directives;
correspondence;
field review reports.

make a note of every telephone call with the contractor for the project files.
See also Chapter 6.6 – Contract Administration – Office and Field Functions.
Authorities Having Jurisdiction
A key stakeholder group in both the design and construction projects is the authorities having jurisdiction. There may be multiple authorities at several levels of government involved, including individuals and committees with an interest in site planning, zoning, plans examination, site inspection, conservation lands, traffic, water management and utilities. Each of these authorities may have significant levels of influence. Levels of interest in the project's objectives may vary from keen to none.
In responding to the communication needs of authorities having jurisdiction, political awareness is a key skill in determining how to respond to their interests. Consider:
What are the factors motivating the authority in decision-making about the project?
What information do they need and when?
How can information be presented to address their interests?
Adapting communication strategies used with clients:
promote "active listening";
use simple, straightforward language in all communications;
be honest, which includes:

endeavouring to facilitate the resolution of problems;
being willing to admit to not knowing an answer, but promising to find the answer;

propose solutions rather than problems;
thoroughly document all decisions relating to a project and confirm their accuracy; and
recognize the authority's right and responsibility to make decisions in the interests of their organization.
See also Chapter 2.4 – Authorities Having Jurisdiction.
Other Stakeholders
There may be many other stakeholder groups involved in the design and construction processes including neighbours to the project, tenants and user-stakeholders. Refer to the tools of stakeholder analysis in Chapter 5.2 – Stakeholder Management for further discussion.
Internal communications refers to communications within an architectural practice.
Principals
Good communications between principals are essential to a healthy practice. Because partnerships usually involve individuals with complementary strengths, the principals are likely to have different ways of viewing the same set of issues and circumstances. This makes good communication even more important.
Marty Grothe and Peter Wylie give useful advice on the meaning of effective communication among principals in a 1982 article in Professional Services Management Journal:
Accepting your partners as having a right to be different from you and not trying to make them be more like you;
Being willing to sit down periodically and talk openly about your relationship with each other;
Being able to listen to the other person's point of view, especially when it's different from your own thoughts and feelings, especially when there are problems;
Taking responsibility for the contribution you're making to problems in the relationship, rather than blaming it all on the others; and
Being willing to look for solutions to problems that everyone can live with rather than trying to have it all your own way.
Staff
The staff of an architectural practice are its most valuable resource. Staff members represent the practice through their communications with clients, contractors and the public. Good communication skills on the part of staff members depend to a certain extent on the culture and goals of the practice.
The following actions help build good communications skills:
insist on good communications and be a role model;
communicate regularly with "crits" and reviews;
communicate openly about issues facing the firm;
seek out and listen to staff's concerns, and act on valid points;
be clear and direct in performance evaluations;
announce general information.
See also Chapter 3.6 – Human Resources.
The following section briefly describes various types of communication.
A face-to-face meeting is often an effective way to resolve an issue in a timely manner. Planning and organization are essential for all effective meetings.
Successful meetings must be planned. Meetings should be conducted to achieve a specific project objective.
Project-related meetings are where project communications may occur.
Types of meetings:
Regular meetings – to provide job progress and gain client, consultant and contractor feedback;
Decision-making meetings – to solve specific problems or to avoid potential problems.
See "Appendix A – Checklist: Planning a Meeting" at the end of this chapter.
The following steps help to ensure a well-run meeting:
circulate the agenda and background information ahead of time, if possible;
state the meeting's purpose;
begin on time, do not wait for latecomers, and, if appropriate, do not "recap" the past discussion when they arrive;
stick to the agenda and set time limits for each item;
keep minutes that record the following:

new information;
decisions made (not the discussion);
further action required, by whom and when;

defer items that require more in-depth discussion;
defer items requiring further information, and assign someone to follow up with the research.
A "Minutes of Meeting" form is available in Chapter 3.11 – Standard Templates for the Management of the Project.
Although face-to-face meetings are often the preferred mode of communication, teleconference and video conference meetings (Skype, Zoom, Go-To-Meeting, WebEx, etc.) are a practical solution to virtual team management and permit people working in different locations to conduct "meetings" without the cost, time and environmental issues associated with travel. Although the benefits of face-to-face and non-verbal communication are lost, teleconference and video conference meetings are quick ways to exchange views, to poll a group when a vote is required, or to gain consensus for a decision.
The following tips help ensure effective teleconference and video conference meetings:
arrange the meeting well in advance to ensure that all parties are available;
verify time zones of the participants;
assign a chairperson for the meeting;
provide an agenda ahead of time;
test the technical equipment to ensure video, projection and sound are in proper working order;
distribute the minutes of the meeting as soon as possible after the meeting.
Voicemail and texting – systems for leaving (and retrieving) messages – can be an effective communication tool. The following tips for voicemail are helpful:
speak clearly and slowly, and repeat telephone numbers;
include enough detail to enable the recipient to provide requested information on the originator's voicemail (this helps to reduce "telephone tag");
never record live telephone conversations without advising and getting approval of the other party;
keep messages factual and professional (messages can be archived and used as legal evidence in a dispute);
advise when and where you can be reached (such as cellular phone, home, another office).
Advanced and ever-changing communications technologies are time savers that benefit design and construction processes. Architects can communicate with field superintendents or any team members who also have mobile devices to avoid project delays.
With their easy-to-use-apps, mobile devices allow architects and team members to:
access, document, share and edit important project information while at the office or on the job site;
schedule and record appointments and meetings;
communicate urgent messages.
Electronic mail (e-mail), company-wide intranet, multi-organization project extranet, and text messaging are the most prevalent methods of communication in architectural practices. It is important that the firm keep a permanent record of e-mail communications for each project. Misused, e-mail can expose an architectural practice to greater liability.
Scanning documents and sending them as attachments to an e-mail is the most economical way to send materials from one location to another.
E-mail has its own etiquette and it is more than a "conversational" tool. Before sending an e-mail, consider whether or not the message: i) would be appropriate on company letterhead and attached to a short e-mail with the hard copy mailed to a client, or ii) should be communicated face-to-face. It is important that all architectural practices develop policies and procedures for this form of communication because e-mail is not only written documentation, it also represents the firm.
Project-specific websites (often referred to as "project portals") that can be accessed by consultants, contractors, and clients (individual access rights required) are very typical and become a comprehensive source of project information and a project management tool. All project documentation, as well as site photographs and construction videos, can be viewed on these websites.
Design and construction documents are usually transferred electronically often using a specific URL (uniform resource locator) such as a website or FTP (file transfer protocol) site. Bid documents may also be distributed electronically without printing documents.
Contractors can use the electronic files as a basis for quantity take-offs. Many municipalities and construction associations accept electronic submission of documents. Building permit applications are also being processed electronically through various departments within a municipality. Municipalities claim that this improves the ability of information transfer and reduces the time required to process applications. Furthermore, documents can be transferred directly to the construction site.
However, a number of issues must still be addressed, such as:
enforcement of the copyright (electronic documents are very easy to copy);
increased professional liabilities resulting from undetectable alterations to the electronic documents;
the application of professional seals and signatures;
the assurance that electronic files will be readable in the future.
(Note: Although it is widely believed that electronic data deteriorate over time, no one knows for certain the rate or nature of possible deterioration.)
A courier can deliver material, such as paper documents, in as short a time as it takes to travel from an architect's office to the final destination. As with some other forms of communication, planning saves money – the less urgent the delivery, the lower the costs.
Architects normally use couriers when material such as proposals, contracts, legal instructions or other objects must reach their destination by a specific time. It is important to verify that the courier will guarantee delivery and carries insurance to cover lost items. The courier must also be equipped with technology to enable confirmation that the delivery was made, to whom, and at what specific time.
Facsimile machines (fax machines) are becoming rare in the design and construction industry, and many offices have abandoned the use of this communication technology. However, there are reasons for the continued use of the fax, including:
legal documents requiring original signatures;
point to point transmission of secured documents;confidential information.
The volume of paper can be reduced by omitting the fax cover sheet for letters that are typically automatically addressed to the recipient.
Although slower than courier services, the basic mail service provided by Canada Post still has the distinct advantage of being the most economical way to send material from one location to another. Not everything is urgent and, with careful planning, fewer couriers may be required. Confidential material may be sent by mail and can be registered if necessary. Canada Post also has programs for preferred delivery, which guarantees faster delivery than that provided by regular mail service.
The future of communications is connecting stand-alone systems by using new technology, such as building information modeling (BIM) and real-time sharing among the architect, client, contractor and facility operations team. For example, MasterFormat is the most widely used specifications format and is built into most BIM software. BIM will automatically allow the architect to know which sections of MasterFormat are required for the project manual. The project specifications can also be linked to project drawings. Today, big data and the internet of things are used in building facilities' asset management. In the future, big data and the internet of things will improve the design and construction communications process.
Refer to Becky Holten's article "How Technology Is Changing the Construction Industry."
Angell, David, and Brent Heslop. The Elements of E-mail Style. Don Mills, ON: Addison-Wesley Publishing, 1994.
BC Building Projects Committee. Management of Building Projects: A practice manual for all lead roles from project concept to completion, 1st Edition. Vancouver, BC: BC Building Projects Committee, 2004.
Borcherding, John D. "Improving Construction Communications." Project Management Institute. http://www.pmi.org/learning/library/improving-construction-communications-behavioral-science-1748.
Cheng, E.W.L., H. Li, P.E.D. Love, and Z. Irani. "Network communication in the construction industry." Corporate Communications: An International Journal. 2001: Vol. 6 No. 2, pp. 61-70. https://doi.org/10.1108/13563280110390314.
Dainty, Andrew, David Moore, and Michael Murray. Communication in Construction, Theory and Practice. UK: Taylor and Francis, 2006.
Dickinson, John, and Paul Woodard, eds. Canadian Practice Manual for BIM. buildingSMART Canada, 2016.
Emmitt, Stephen, and Christopher A. Gorse. Construction Communication. Oxford, UK: Wiley-Blackwell, 2003.
Flesner, Neal. "Why Is Communication Important on Construction Projects?" Ventura Consulting Group, March 2017. https://venturaconsulting.com/why-is-communication-important-on-construction-projects.
Government of Canada, Department of Justice. Dispute Resolution Reference Guide. (2006).
Greusel, David. "Communicating with Clients." The Architect's Handbook of Professional Practice, Fourteenth Edition. American Institute of Architects, Joseph A. Demkin, ed. John Wiley & Sons, 2008.
Hoezen, M.E.L., I.M.M.J. Reymen, and G.P.M.R. Dewulf. The Problem of Communication in Construction. University of Twente, 2011. https://research.utwente.nl/en/publications/the-problem-of-communication-in-construction.
Holten, Becky. "How Technology Is Changing the Construction Industry." Building Enclosure, December 20, 2018. https://www.buildingenclosureonline.com/blogs/14-the-be-blog/post/87981-how-technology-is-changing-the-construction-industry, accessed March 23, 2020.
Kliem, Ralph L. Effective Communications for Project Management. New York: Auerbach Publications, 2007.
Project Management Institute. A Guide to the Project Management Body of Knowledge, Sixth Edition. Newtown Square, PA: Project Management Institute, 2017.
Sievert, R.W. "Communication: An Important Construction Tool." Project Management Journal, 17(5), pp. 77-82, 1986.
Stone, David A. Mastering the Business of Architecture. Toronto, ON: Ontario Association of Architects, 1999.
Verma, Vijay K. The Human Aspects of Project Management, Volume Two: Human Resources Skills for the Project Manager. Newtown Square, PA: Project Management Institute, 1996.
Wang, Zachary. Human Factors in Project Management: Concepts, Tools, and Techniques for Inspiring Teamwork and Motivation. San Francisco, CA: Jossey-Boss, 2007.
Appendix